Written by: Dr. ir. Andre Jellema, Agricultural Programme Manager at Auxfin International on GAP4A on World Meteorological Day, March 23 2021. The views and opinions expressed in this blog are those of the author(s).

For smallholder farmers in Burundi it is hard to get an accurate weather forecast. The farmers are poor and live far from the road. They have no electricity and batteries are expensive. They get rarely visited by extension workers to give them farm advice. To cope with the situation the farmers have adopted an agricultural strategy of repeated sowing, timed on traditions and local observations. Due to climate change the rainy season gets more and more delayed. The season becomes shorter and the rains intensify. The traditional 'weather system' is inefficient and not climate proof.
To support these farmers AUXFIN International, a privately held social enterprise, is building a network of connected farmers. In a blanket approach, village after village, commune after commune and province after province, AUXFIN is organizing the farmers in self-help groups (so called G50 farmer groups) and is connecting them to a digital service ecosystem by providing them with a tablet and solar power. At a very limited cost the farmers can now start saving at a local microfinance institute. They can use their accounts to pay for their inputs or to receive a small loan online. To support their agricultural development AUXFIN is deploying the AgriCoach in the ecosystem as part of the G4AW programme. The AgriCoach app provides information on:
What crops to grow? (CropSelector)
When to perform my farm activities? (ActivityCalendar)
How to perform these activities? (Best practice movies)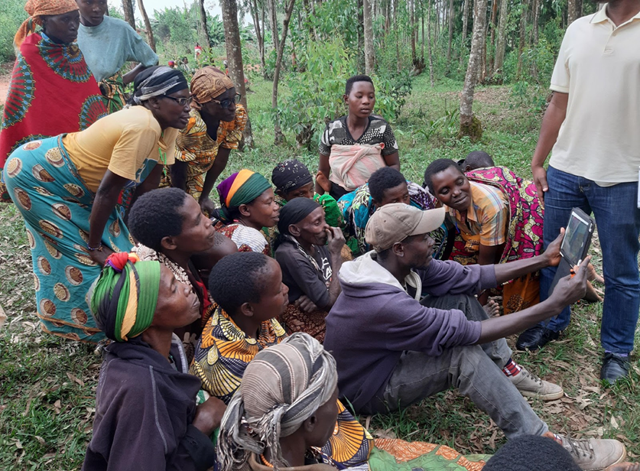 A G50 farmers community explores the AgriCoach app Weather information and the seasonal forecast is key in this application, it is updated on a daily basis. To accommodate all farmers the information is provided at different levels of complexity: in symbols, local language and as a rainfall likelihood graph. It has proven to work for the illiterate as well as the educated farmer. Farmers share their information in their G50 group. During our evaluation farmers indicate to use the weather forecast for planting, spraying and hiring labour. They also say they can plan their family visits better because they know it will rain that day.
In January 2018, 66 rain meters have been distributed in the farmers network to collect ground data and validate the weather forecast. Since then farmers are entering their rainfall measurement in our digital platform on a daily basis at 7 am in the morning. WeatherImpact BV, in collaboration with Delft University has been using the data to evaluate both the network and the weather forecast (Nahimana 2020). It was concluded that both in the international ECMWF weather forecast model as well as the local rain meter network there is room for improvement. Only the weather forecast of today and tomorrow are substantially more skilful than climatology-based forecasts. This is in line with other observations of the tropical weather systems and emphasises the need for more ground based weather observations in Sub-Saharan Africa to further improve global and local weather models.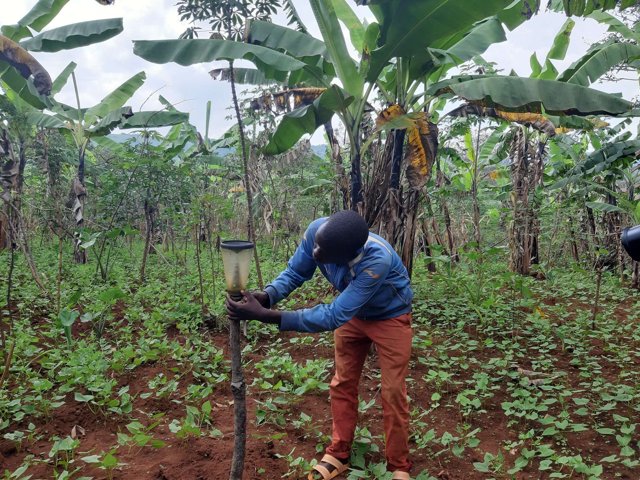 Burundi G50 farmer measuring rainfall
During the evaluation it was also discovered that the farmers are doing their own validation of the weather forecast and compare the predicted rain value with the observed value the next day. This helped them to grow confidence in the weather forecast and to understand complex information such as the graph indicating the rainfall probability. Therefore AUXFIN has now expanded the crowd sourcing network to 430 rain meters covering all of the hills in the provinces Gitaga, Karusi and Kayanza to enable farmers to make their own judgements and to collect more ground truth leading to the improvement of weather forecast models.
World Meteorological Day takes place every year on 23 March. On this day, the World Meteorological Organization commemorates the coming into force of the Convention establishing the World Meteorological Organization on 23 March 1950. Its fundamental mission is to support the countries of the world in providing meteorological and hydrological services to protect life and property from natural disasters related to weather, climate and water, to safeguard the environment, and to contribute to sustainable development. This cannot happen without the necessary observations, research and operations that develop the understanding and knowledge of weather and climate.
Note to the reader
The G4AW programme has many projects worldwide with a wide-ranging variety of stakeholders. We occasionally invite partners to share their own experiences, best practices and insights via blogs on our website to inspire and inform our audience.