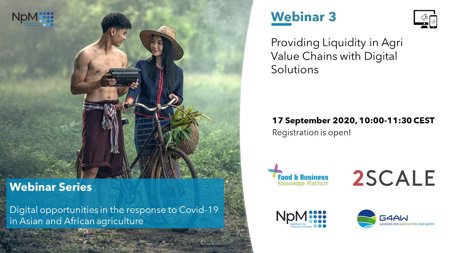 The Food security and COVID-19 CoP on Digital Solutions organize a webinar series "Digital opportunities in the response to COVID-19 in Asian & Africa agri-food systems".
The third webinar takes place on September 17th, 2020 from 10:00 till 11:30 CEST, in cooperation with the Finance & Outreach CoP. The session will focus on "Providing Liquidity in Agri Value Chains with Digital Solutions" and is co-hosted by the Netherlands platform for Inclusive Finance (NpM) and the Netherlands Space Office.
Click on the name of the speakers for the slides.
Facilitated by:
Speakers at the interactive webinar:
Lexy Ratering Arntz, Head of Impact Strategy of VanderSat,

Satellite-based soil moisture records for increased access to financial services

Peter Breitenbach, Head of Strategy & Products, Mezzanine Ware (Pty) Ltd.,

Digitisation of agriculture as a way to enable/boost local food production

Akua Benewaa Okrah, Digital Innovations Task Force Member and Hammond Mensah, Head of Impact Investment

Solidaridad,

Opportunities for scaling up smallholder finance in cocoa landscapes at speed using digital platforms