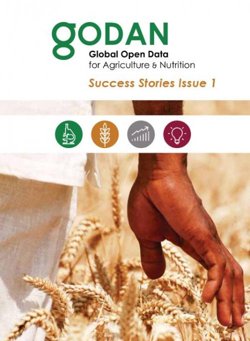 Global Open Data for Agriculture & Nutrition (GODAN) supports the proactive sharing of open data to make information about agriculture and nutrition available, accessible and usable to deal with the urgent challenge of ensuring world food security.
This month GODAN published its first issue of the Success Stories brochure (PDF | 1MB).
In this issue, fifteen success stories are shared on the use of open data for agriculture and nutrition. One story is about the EC/ESA Copernicus satellite programme providing free satellite data for agriculture. Five of these stories using satellite data are about operational services (advisory and insurance) that are being developed for smallholder farmers (within G4AW programme) and for other customers in agriculture.
Download: http://www.godan.info/documents/godan-success-stories-issue-1