Indonesian farmers are growing peppers with the help of satellite data and mobile technology as part of the SpiceUp project, an initiative of the Rotterdam-based company Verstegen Spices & Sauces, among others. This digitalisation project allows the pepper farmers to grow their crops in a more sustainable manner and increase their revenue.
Interview

Evert Jan Verschuren
Project leader SpiceUp project in Indonesia
Text Beatrice Keunen
When is it time to water the pepper plants? Do I have to use fertiliser or pesticides or not? For the farmers who cultivate the pepper corns that we buy at our local supermarket, these are important questions. A group of Indonesian pepper farmers now has help from the SpiceUp app, which gives them access to satellite data. These so-called geodata utilise climate forecasts and historical weather patterns to predict droughts and flooding, both of which affect the soil quality and can cause plagues and diseases. The pepper farmers can use these data to determine if their soil needs additional nutrition or irrigation. By effectively using water and organic compost, they contribute to a better climate and boost their crop yields.
Plummeting pepper price
The SpiceUp app was developed as part of the SpiceUp project, which is run by project leader Evert-Jan Verschuren of Verstegen Spices & Sauces and which targets the 100,000 pepper farmers in Indonesia. This project, launched in 2018, is a partnership between seven organisations from the Netherlands and Indonesia. The project's financier is the Netherlands Space Office (NSO), which utilises satellite data for agricultural and water management purposes.
"SpiceUp helps the Indonesian pepper production industry become more sustainable," Verschuren says. "Over the past three years, it has also resulted in an increased production capacity and therefore a higher income per pepper farmer. That was necessary, too, given that the price of pepper on the global market - and therefore its production - plummeted in 2018. The lower price drove many farmers to switch to more profitable crops or find work in the tin mines. Our project helps to rebuild the appeal of pepper farming."
Verschuren calls the project a win-win situation. First of all, there are important benefits for the pepper farmers themselves since this method of digitalisation improves their economic and therefore social conditions. As the price per kilo of pepper on the global market goes up, so does their income. They can then apply for microcredit and use their profits to further expand their operation. Secondly, Verstegen benefits because the project helps make the supply chain more sustainable.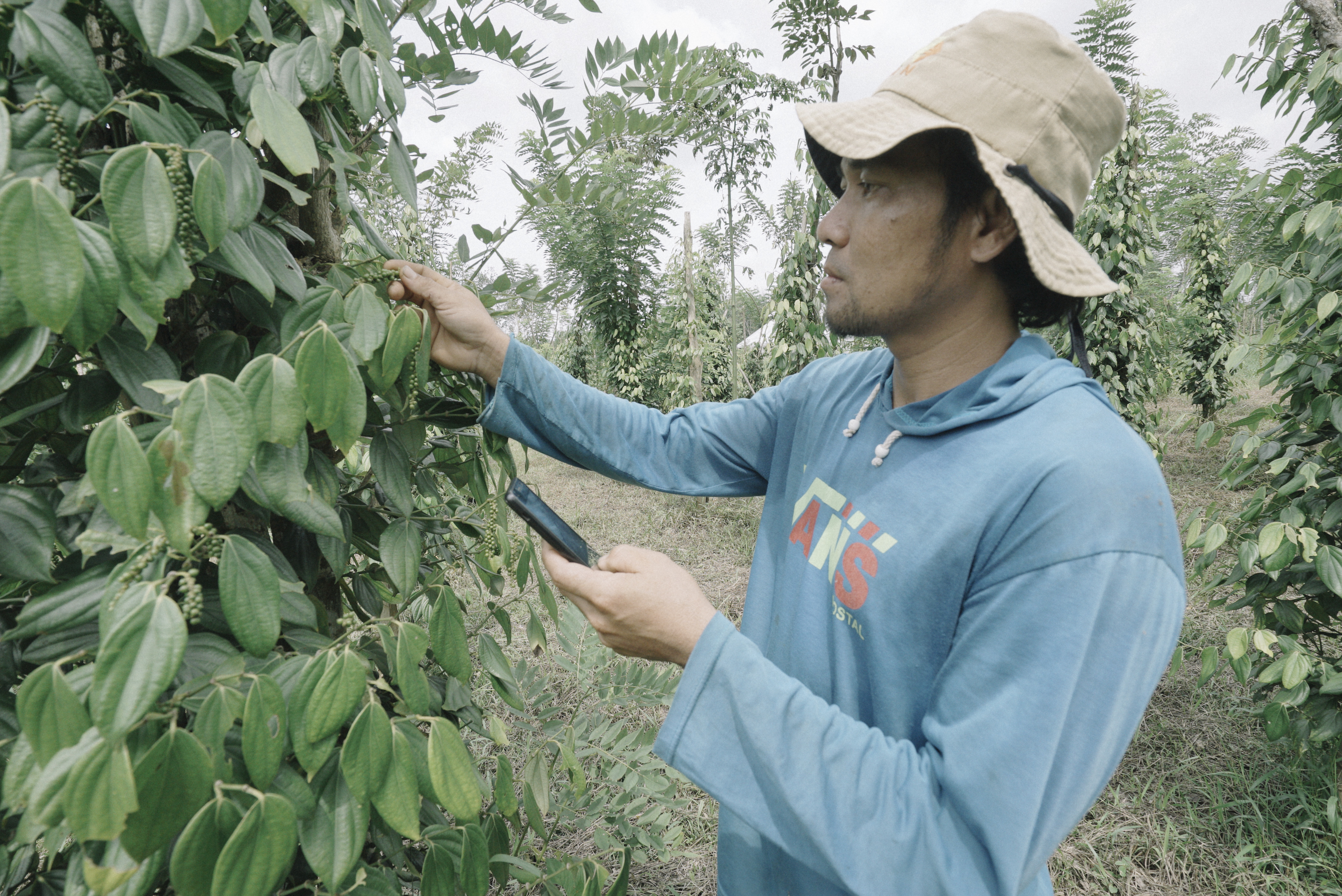 "Thus far - and I am quite proud of this result - we have offered offline training to seven thousand pepper farmers," Verschuren continues. "These farmers now have to spread the benefits like an oil stain. The app has been downloaded around five thousand times so far and circa 1,500 farmers are actively using it. Even though the total number of farmers is much higher, this is not an insignificant figure. "We are going for quality over quantity. We would rather focus our attention on a single farmer and make sure they fully grasp their new knowledge than reach out to entire groups of farmers."
Drones
In the past, field workers would visit the farmers in person. Today, Verstegen interacts with, supports and monitors the farmers via an app. In the near future, drones will also be used for the latter. "The digitalisation is a complex phenomenon for traditional farmers," Verschuren acknowledges. "They struggle to keep up and there are too many buttons and functions to remember. The most commonly used word in our project is therefore 'simplify.' In practice, the situation always differs from what you came up with on your drawing board. One of the farmer's family members may own a smartphone, but they only use it for social media. Now, it has to become an important part of the farmer's business operations. That is difficult and it takes time."
"Our ambition is to have the SpiceUp project become financially independent within five years. To realise that, we will launch a social enterprise. We cannot truly call the project a success until we pull that off." Verstegen intends to realise this by only purchasing pepper from farmers who use the app and by providing training to help the group of app users grow. "We can also use various interim solutions: for example, purchasers can log in to the farmer's account and arrange things on their behalf. Good examples are effective: when farmers understand how the app works and see that using it pays off - which it does, because the kilo price keeps going up - their colleagues will start to use the app as well. Spread the word, download the SpiceUp app! We depend on that."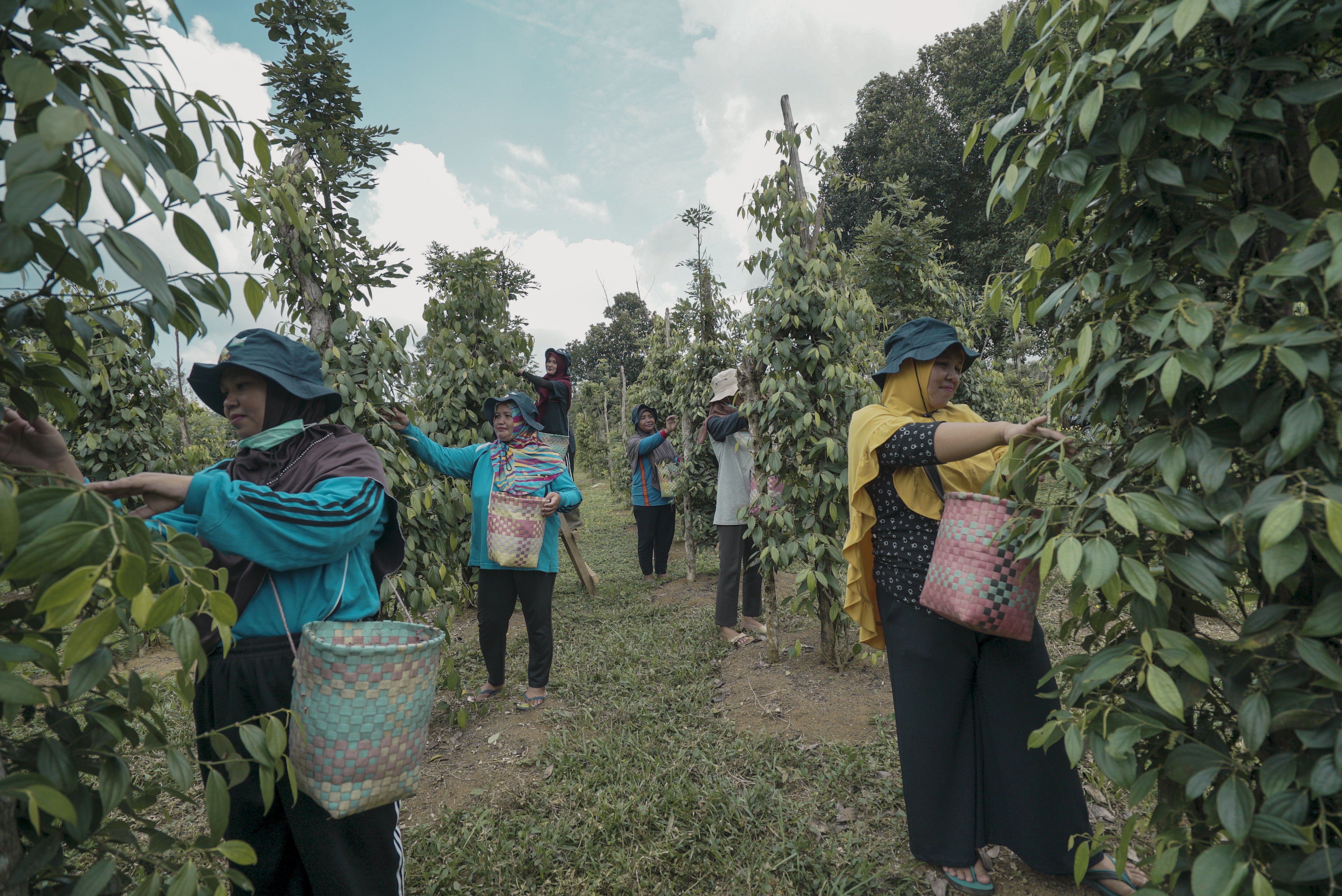 IRBC
Agreement for the Food Products Sector
Verstegen Spices & Sauces is a member of the Royal Dutch Spice Trade Association (KNSV), which has signed the International Responsible Business Conduct Agreement for the Food Products Sector. This agreement aims to make production chains for food products more sustainable in order to minimise the risk of human rights violations and environmental harm. The Social and Economic Council (SER) brings parties together and helps concretise the agreements that are made. Verstegen's SpiceUp project fits within this IRBC agreement because it helps make the production of pepper more environmentally friendly and improves the socio-economic conditions of the pepper farmers involved in the project.
*This interview was first published in SERmagazine, decembernr. 2021'