From July to September 202, the Food security and COVID-19 Community of Practice (CoP) on Digital Solutions hosted a webinar series focusing on "Digital opportunities in the response to COVID-19 in Asian & Africa agriculture". The speakers demonstrated how digital solutions that were already developed before the crisis, proved essential in the response to COVID-19. Learned lessons and opportunities to further improve the resilience of farmers and SMEs in the food chain to future crises through digital solutions were discussed in a lively debate with an average of 75 participants per webinar.
The CoP Digital Solutions is set up to exchange learning across practitioners on the use of digital solutions in COVID-19 response, recovery and resilience in agriculture. The webinar series aimed at communicating those learnings to a broader and interested audience, also inviting participants to sign up for the CoP. The CoP Digital now aims to translate the energy seen in the webinars into joint action with the involved participants and speakers. Please do not hesitate to contact us by replying to this survey if you would like to participate.
1st Webinar: African entrepreneurs in the digital response to Covid-19

During the first webinar on 30 July, hosted by 2SCALE, three speakers shared their learnings on how African entrepreneurs in agriculture use digital technology to respond to Covid-19.
Sriram Bharatam, founder of Kuza, shared how an innovative e-learning platform is able to support smallholder farmers in Kenya in response to COVID-19.
Monique Vanni, Solidaridad, shared how the organization uses its digital presence to support agriculture supply chains in Africa in times of COVID-19.
Alhassan Issahaku, innovation lead at 2SCALE, shared how digital entrepreneurs establish commercial relationships with agribusiness.
To quote Monique Vanni of Solidaridad, concluding in the discussion of the webinar: "We need to think beyond emergency response and program delivery to help farmers adapt to a new reality - and that requires flexibility and investment from all - our own teams, donors, partners, governments. Covid is accelerating the adoption of digital tools in development, and teams are learning how much they can accomplish remotely, but we can do better than "a faster horse" - same thing but different channels. We can leapfrog to a new paradigm where deployment is supported by NGOs but led by communities using digital tools that connect them to knowledge, markets and finance. This is the only way we can truly reach scale and legitimacy."
If you have missed the first Webinar but are interested in what has been shared, there is a full recording available on this link.
2nd Webinar: Digital opportunities in Asian & African agri-food systems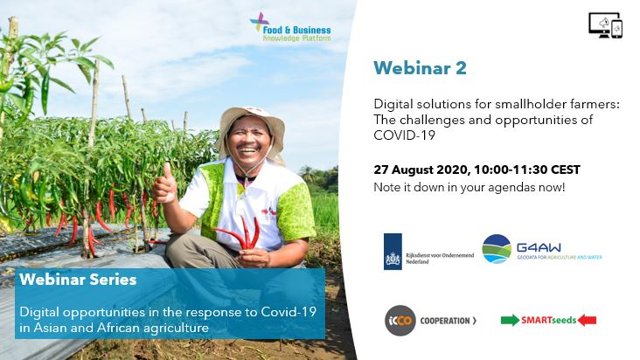 During the second webinar on 27 August, hosted by NSO / G4AW, five speakers shared their learnings on "Digital opportunities in the response to COVID-19 in Asian & Africa agri-food systems". Speakers were:
Lenneke Braam, Regional Manager South East Asia ICCO Cooperation
Dhimas Putranto, Programme Officer/Business Development Officer at ICCO Cooperation and Project Manager of SMARTseeds.
Ad Rietberg, Director Agri-Wallet
Faith Mulwa, Chief Financial Officer Agri-Wallet Dodore Kenya partner in SDGP project – Increased potato value chain efficiency in Great Lakes Region.
Closing by Mariska Lammers, Ministry of Foreign Affairs of The Kingdom of the Netherlands
'In the middle of difficulty lies opportunity'
This quote (Ad Rietberg, Agri-Wallet) probably best summarizes the theme of the discussions that we have had during the second webinar. There are a lot of opportunities in which we can help smallholder farmers digitally, but challenges are manifold, from technical, legal to ethical. Questions during the webinar that were discussed were about technical challenges such as connectivity issues can hinder farmers from being connected to information- or financial services, choosing the right business model that will remain to benefit the smallholders primarily whilst being financially sustainable, what the role of the private sector is and how that has changed during the pandemic, and what the ethical aspects are of the sector. Interested to hear more about these and more, then check out the recording: there is a full recording available on this link.
3rd Webinar: Providing Liquidity in Agri Value Chains with Digital Solutions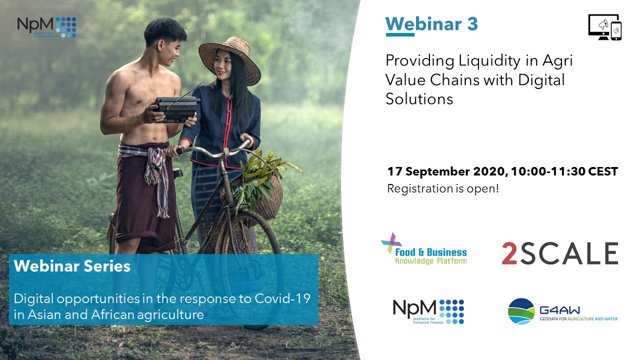 During the third webinar on 17 September, hosted by NpM and NSO, speakers shared their learnings on "Providing Liquidity in Agri Value Chains with Digital Solutions":
The third and final webinar dove into all things financial. From satellite based insurance systems, to access to investment capital as a key barrier to digitising smallholder food chains. Looking to the future of course questions about scalability remain. In the words of Peter Breitenbach from Mezzanine Ware: "You need to be able to offer these services to all smallholder farmers. It can't just be limited to the footprint of one organisation. Therefore, it is important that it is agnostic, non-exclusive. The moment you start linking it to a specific provider or limit it to one or two players then you are potentially throttling its capability to scale in the future." Curious to hear more? Watch the recording here.
Did you participate in the webinar series and would you like to give your feedback or learn more about the CoP Digital? Then please leave your feedback in this survey.