21 - 24 September 2015, The Hague, The Netherlands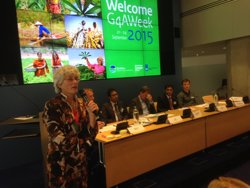 The G4AWeek, organised by the Netherlands Space Offfice, brought together all G4AW projects and other stakeholders in the domain of food security and satellite data with the aim to share knowledge and identify synergies between projects and partners.
The G4AWeek started on Monday with an inspiring plenary conference where the ten new G4AW grantees presented themselves and the running G4AW projects presented their lessons learned. In the afternoon there were presentations from relevant G4AW related organisations: IFC, IFAD, GSMA, Syngenta Foundation, CABI. Tuesday to Thursday a variety of parallel sessions were planned including lunch meetings, special interest sessions and dedicated project and country meetings.
Download the programme leaflet
Presentations Monday 21 September
Lessons learned G4AW grantees 1st call
Presentations G4AW grantees 2nd call
Afternoon presentations
Presentations Tuesday 22 September
Open session "Advances in Remote Sensing for Agriculture"
Open session: "Mobile Network Operators"
Added value for the customer (Daniele Tricarico - GSMA)
Use of mobile advisory services - Bridging the last mile (push-pull extension) (Phil Abrahams - CABI)
Open session: "Synergies Water Management and Food Security"
Intro Workshop G4AW and synergy between water and food security (Bert Satijn - NWP)
Database water productivity (Jippe Hoogeveen - FAO)
Pitch G4AW Water & Food Security (Andries Rosema - EARS)
Presentations Wednesday 23 September
Open session "Precision Agriculture benefits Food Security and smallholders"
Precision agriculture (Altjo Medema - DACOM)
Precision agriculture: what's in it for me (Tamme van der Wal - AeroVision)
Open session: "Effective monitoring evaluation"
IATI (Theo van der Sande - Min. of Foreign Affairs)
Monitoring & Evaluation G4AW (Victor de Lange - CREM)