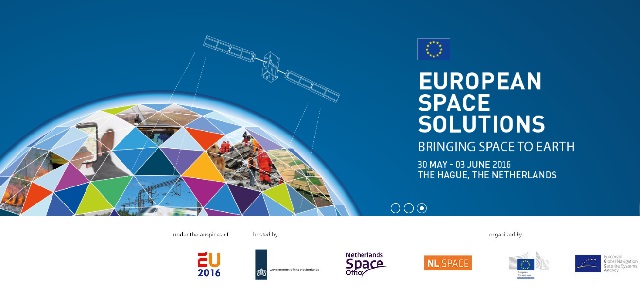 Under the auspices of the 2016 Dutch Presidency of the Council of the EU, the fourth edition of European Space Solutions is coming to The Hague. Taking place at the World Forum Convention Centre from 30 May to 3 June 2016, the major 5-day conference will bring together business and the public sector with users and developers of space-based solutions. For the first time, European Space Solutions will feature a hands-on showcase of over 50 innovative space applications, technology solutions and cutting-edge research results from across Europe, including a special focus on space applications in The Netherlands.
Geodata for Agriculture and Water (G4AW) Facility will organise the special side event "Space for Food Security" during European Space Solutions, June 2 (14.00-17.00hrs) in The Hague, the Netherlands.
Here you may learn how:
space applications can contribute to increasing food security
to provide added value to millions (smallholder) farmers using satellite data
to set up businesses which are affordable and still profitable
cases: rice farming (Mekong), insurance services (Africa), disease prevention (India), irrigation services (Southern Africa)
G4AW will also be represented with a stand at the exhibition.
Location: World Forum, The Hague, The Netherlands
Date: 31 May - 3 June 2016
More information: http://www.european-space-solutions.eu/
Please go here to register for the conference and side events