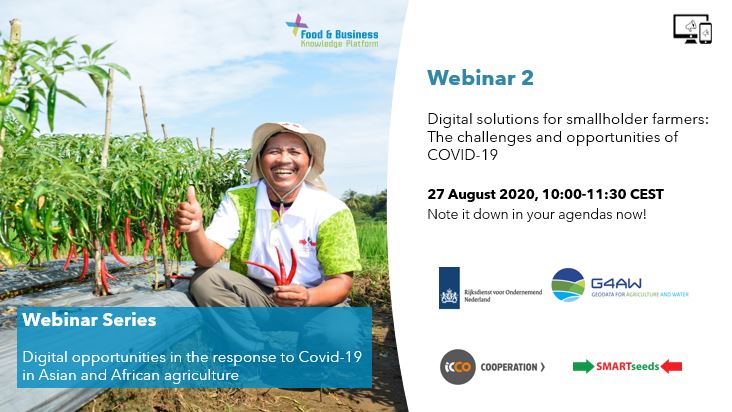 The food security and COVID-19 CoP on Digital Solutions organize a webinar series "Digital opportunities in the response to COVID-19 in Asian & Africa agri-food systems". The second one took place on August 27th, 2020 from 10:00 till 11:30 CEST. The workshop focused on "Digital solutions for smallholder farmers: the challenges and opportunities of COVID-19" and was co-hosted by the Netherlands Space Office and the Netherlands Enterprise Agency.
Click on the name of the speakers for the slides.
Facilitated by: Joanna Ruiter, The Netherlands Space Office
Speakers:
Lenneke Braam, Regional Manager South East Asia ICCO Cooperation
Dhimas Putranto, Programme Officer/Business Development Officer at ICCO Cooperation and Project Manager of SMARTseeds.
Faith Mulwa, Chief Financial Officer Agri-Wallet Dodore Kenya partner in SDGP project – Increased potato value chain efficiency in Great Lakes Region.
Closing by Mariska Lammers, Ministry of Foreign Affairs of The Kingdom of the Netherlands
-> You can listen to the recording of the webinar here.
To find information about the 3rd webinar follow this link.