Blog written by Mapworks. The views and opinions expressed in this blog are those of the author(s).
Together with IDH, Mapworks set out to connect stakeholders active in landscape coalitions to open access geodata through clear and accessible online landscape reports. By delivering publicly available data to those that need it, users in the field are better informed and can make more targeted, evidence-based decisions to achieve their sustainability goals.
Participating in the NSO's geodata challenge allowed Mapworks and IDH to quickly develop a prototype and work towards delivering an economically viable service at the end of the challenge.
What are landscape programs?
Landscape programs are public-private collaborations that engage stakeholders within and outside a geographic area to align around landscape-level goals and actions and improve sustainability performance in that area. These initiatives and the stakeholders that engage with them monitor progress against the landscape targets they agree upon, and work together to attract new investment and position the landscapes and its communities as responsible stewards.
Our interviews with landscape managers working in landscape programs for IDH showed an enduring desire for accessible and understandable geographic data. However, we found that financial constraints and a lack of specialist GIS knowledge meant that even though geodata was technically available, people rarely used it or even knew what type of information was out there.
What do you need to know about a landscape?
Given that landscape programs are set up in very different geographies, it was a challenge to automate a report that would suit the broad variety of landscapes. Our initial user interviews helped focus product development, essentially answering the question: what do you need to know about your landscape to be informed and manage it effectively? If you ask the following questions you'll already start to develop better insight into an area:
What type of land cover do you have in your landscape – is this changing?
Which spots have changed the most in the past year? Or the past decade? Do you have images of the changes to compare the before and after situation?
Is the land quality improving or degrading?
What parts of your landscape are emitting or removing carbon from the atmosphere?
What do climate change projections predict for the next generation of farmers in the area? How will it affect crop suitability, temperature extremes, or dry spells?
Open access geodata can provide the answers to all these questions. But, as is a well-known problem in the community, this data was not all available in one place, and often you'd need specialist knowledge to get what you needed.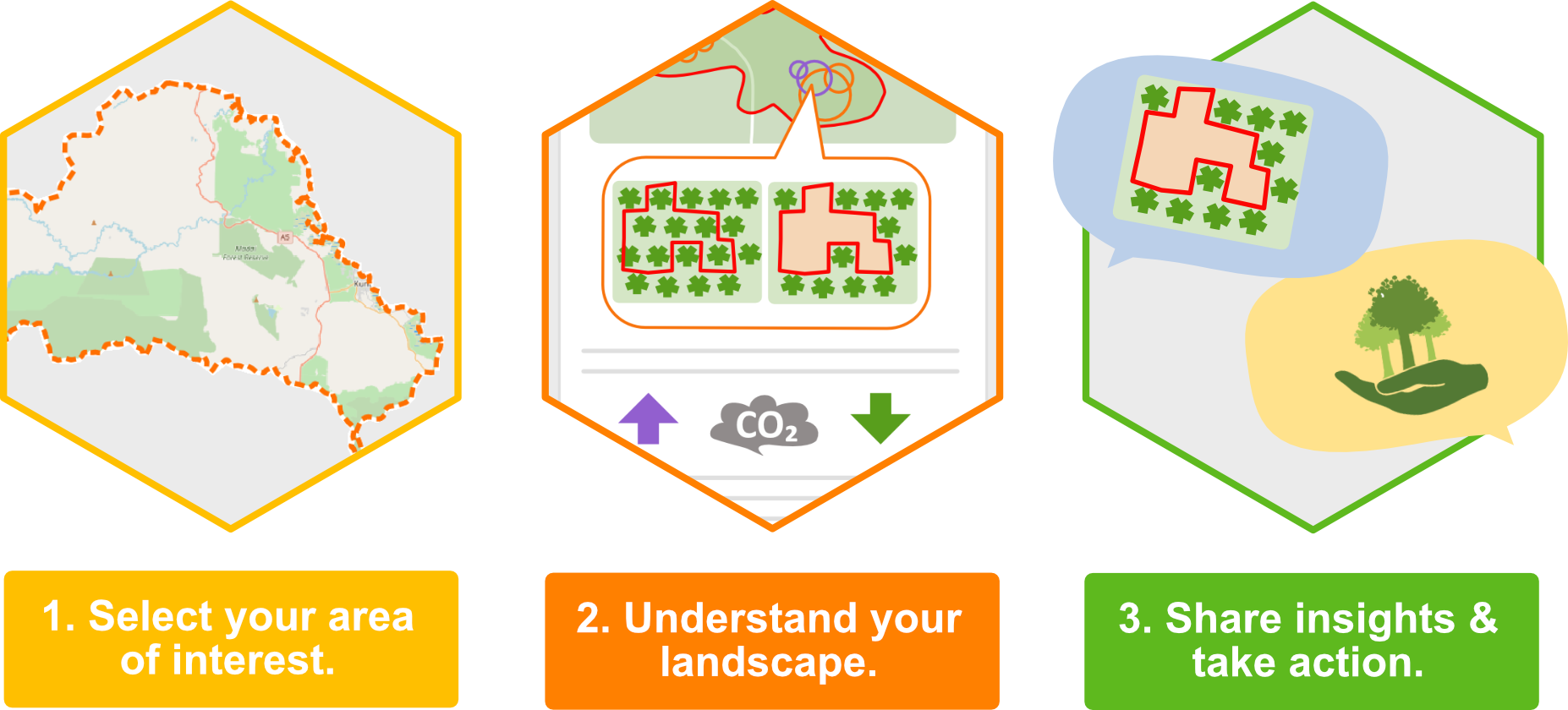 Getting started with the report in 3 easy steps
Working within the NSO competition framework improved our product
Working in short intensive cycles was intrinsic to the process of the NSO competition. We had to iterate quickly to develop a commercially viable product: find out early on what works and don't spend time you don't have on ideas that won't resonate with users. The technical assistance we got from the project was invaluable to achieving this, especially for a small team like us. Working with our coaches at Bopinc ensured the process was effective and efficient, and helped improve the product and align it closely to our customers' needs.
The cooperation with IDH was also crucial to the success of the project. Thanks to the extensive network of IDH, which covered different geographical areas with different challenges, we were able to fine-tune the reports, add new data sources, try different experiments to see what worked best, and deliver a commercially viable product at the end of the competition.
In Phase 1 of the NSO competition we conducted a feasibility study and developed a prototype for the service. Our prototype found an effective way to collect and report on a variety of open access data, proving the feasibility of open access data providing value for end users. Landscape managers from various countries confirmed their interest in the prototype, and were eager to see the service developed further.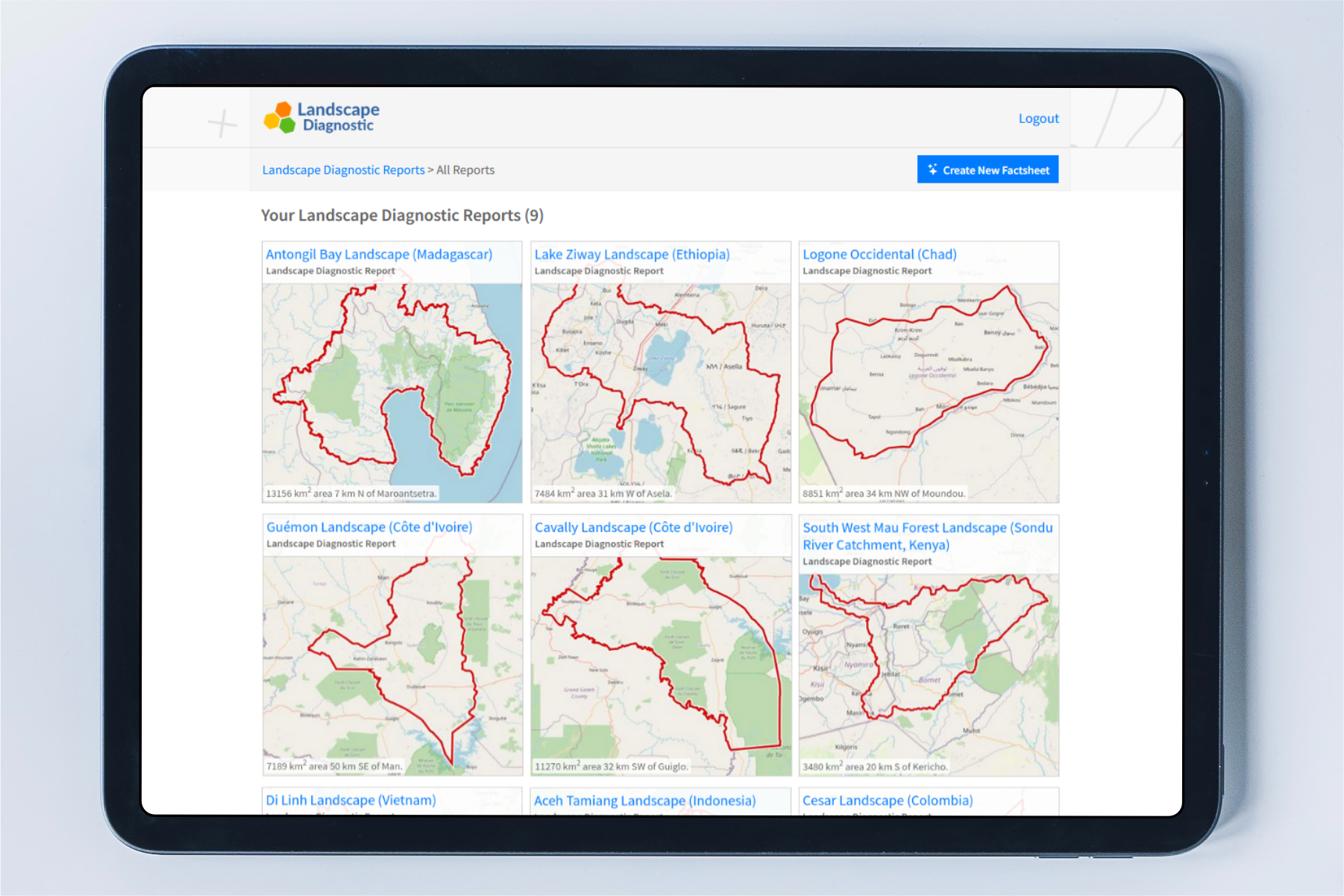 Overview page showing all your reports
For the business model we found that a Software-as-a-Service approach works well with automated reports that are easy to produce and scale, which helps the commercial viability. But we also found that offering the possibility of customisation improves customer engagement and gives them a greater stake and feel of ownership in the product.
In Phase 2 we worked on adding more data and value to the reports. We provided more context around the data, presented data with more maps, and added functionalities that enabled users to customise their reports, for example to set up monitoring areas and custom areas of interest.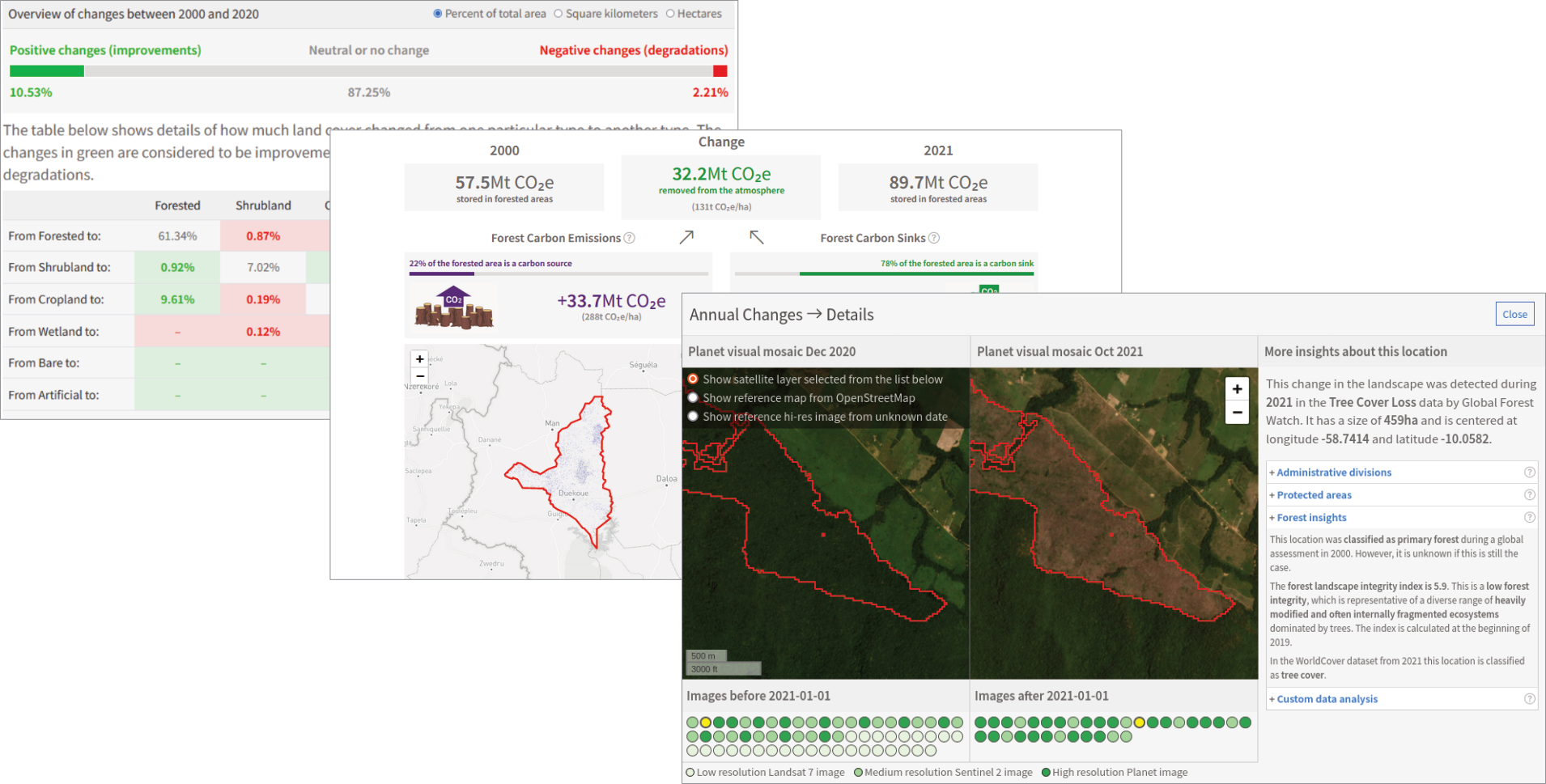 Screenshots of sections in the interactive report
Outcomes
The impact at the end of the NSO competition is that customers now have the opportunity to get existing open-access geodata in front of the right people in a way that is efficient, accessible and cost-effective. For example, landscape managers can now access deforestation data and closely monitor forests that are to be protected through their landscape program. They can also use the data on climate change impact to make the case for climate adaptation to be added in the program targets. For large organisations active in different geographies the reports are also useful to standardise monitoring and evaluation across the whole organisation.
IDH is excited to be the launching customer of the service: 'The Landscape Diagnostic service enables us to collect standardised insights from our landscapes all over the world. Having to do this ourselves would be incredibly difficult and time consuming, and now it's all available at the click of a button. We also have the possibility when needed to customise the reports based on landscape specificities, which is extremely helpful.'
Get in touch with us at info@mapworks.nl if you would like to see a demo or want to know how our service can help you keep an eye on your landscapes.