South Africa suffers from water stress. The Geodata for Agriculture and Water (G4AW) project Rain for Africa (R4A) aims to provide the best available weather and climate data, at an affordable price, or even for free to smallholder farmers in South Africa so they can determine the best dates to plant, spray, irrigate or harvest. The project has reached over 300,000 farmers in the past years and has an even larger scaling potential thanks to a strong partnership of public and private partners.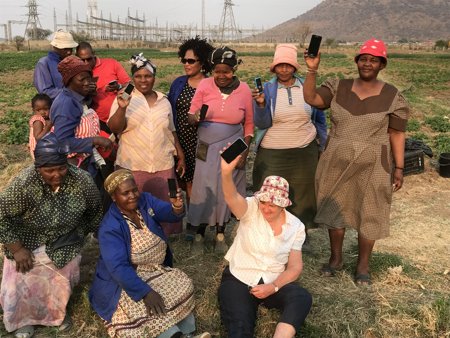 Successful South African ‐ Dutch cooperation
The R4A project is the last success in a longstanding cooperation between South African and Dutch organizations. To efficiently manage the available water resources and reduce climate‐ and weather‐related risks, water managers need access to historical, current and forecast water and weather information. Thanks to support from the Netherlands Enterprise Agency (RVO), the South African Weather Service (SAWS), HydroLogic, eLEAF, the Dutch Water Authorities, the Inkomati‐Usuthu Catchment Management Agency (IUCMA) and other partners started in 2012 a pilot in the Partners for Water programme to demonstrate the benefits of HydroNET in South Africa. HydroNET is a web-based decision support system that empowers over 4000 water professionals with an integrated online water management solution. HydroNET combines weather & water data from satellites and observations with models and knowledge to generate personalised overviews, forecasts and warnings tailored to needs of South African water managers. With this system they can take well-informed, transparent and accountable decisions for managing water resources and share the information with stakeholders and partners. And with success: the consortium won the 'Partners for Water Award' for this demonstration project. Since then, 252 South African and 83 Dutch colleagues from 25 public, private and research organisations have worked together to expand HydroNET in South Africa. In February 2019 the South African Department of Water and Sanitation (DWS) launched the HydroNET Water Control Room. Since then all South African Water Management Areas have access to the information and tools they need to sustainably manage precious water resources.
Leave no one behind
The consortium wants everybody to benefit from this HydroNET success and does not want to leave anyone behind. Small scale farmers in South Africa poses unique challenges and risks to make a living. No matter how large or small, every farmer needs to apply sound management principles. Many of their decisions are based on information that is not easy to come by. Thanks to support from the G4AW Facility, the Rain4Africa project started. The Rain4Africa project aims at providing the correct information at the right moment to food producers, to help improve the quality and quantity of food production in a sustainable manner, so ensuring local food security. To reach this goal, the HydroNET consortium worked together with the Agricultural Research Council to develop the AgriCloud: an online weather based agricultural advisory system that enriches weather & climate data from satellites and observations with agronomical data and local knowledge and generates overviews, forecasts and warnings via HydroNET.
To reach the small scale farmers, the AgriCloud USSD services (SMS) and smartphone App have been developed. This app makes the AgriCloud advisories easily accessible for small scale farmers and gives them information on the best time to plant, spray, irrigate and harvest. This helps them to optimise farm inputs, reduce weather and climate related risks and improve food production. As Leanne Reichard, Business Director of HydroNET, comments, "I'm extremely proud that over 300 South African and Dutch colleagues have been able to work together to provide South African water managers, agribusinesses and farmers with a practical solution that supports small scale farmers before, during and after weather- and climate-related events. There are lots of mutual benefits from our cooperation and we've learnt a lot from our South African colleagues. I'm pleased to see, for example, that the water auditing application developed in South Africa to monitor irrigated water use is now also going to be implemented in the Netherlands to support Dutch water managers during droughts. This way, Dutch water management will also benefit substantially from our success in South Africa."
Let's grow the future together
The Rain4Africa project is one of 23 G4AW-projects in 14 countries aiming to boost climate resilience of agricultural production systems by using satellite data in Africa and Asia. The G4AW program is carried out by the Netherlands Space Office (NSO), and commissioned by the Dutch Ministry of Foreign Affairs. The UN World Day to Combat Desertification and Drought is observed every year to promote public awareness of international efforts to combat desertification. The day is a unique moment to remind everyone that land degradation neutrality is achievable through problem-solving, strong community involvement and co-operation at all levels. Rain4Africa and its partners support combating desertification and drought at the farmer level.
Links:
Press release HydroNET launch South Africa: www.hydronet.co.za/department-of-water-and-sanitation-launches-hydronet-for-all-south-african-water-management-areas/
Winners of the Partners for Water Award: www.youtube.com/watch?v=K57XsLfSutk
Rain4Africa website: www.rain4africa.org
Rain4Africa video: www.youtube.com/watch?time_continue=59&v=GNAlgKZZ6EU
Rain4Africa AgriCloud movie: https://www.youtube.com/watch?v=qzeGxZG92Ps&t=6s
HydroNET South Africa website: www.hydronet.co.za