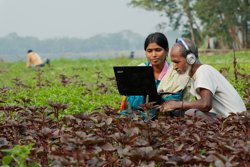 Get inspired by the G4AW approach
The G4AW programme provides solutions for smallholder farmers to improve productivity and climate resilience. Over the course of three years 23 partnerships have been granted financial support by NSO to carry out G4AW projects in countries where economies and livelihoods are highly dependent on the environment. The first of these projects will end in 2018.
The G4AW programme has demonstrated that satellite data and simple solutions can have a big impact on the livelihoods of smallholder farmers. In 2017 we had already reached 850,000 smallholders in 14 different countries, of which 250,000 livelihoods had improved as a result of using G4AW services. The G4AW approach has the potential to reach 4.5 million food producers by 2022.
The time to scale is now
Smallholders farmers and pastoralists in developing countries are often located in remote areas and unable to access timely information on the effective usage of input materials, better farming practices, and financial advice. Access to such information services would ultimately result in enhanced productivity. Scaling business models requires finance. This is why we would like to call upon foreign investors, governments, development banks, insurance companies, foundations, and venture funds to address the needs and constraints of these farmers, providing access to G4AW-like services and enable scaling up service provision. Value chain actors are needed to open up new market opportunities and scalable solutions around G4AW-like services.
The G4AW approach has received broad interest from governments, NGOs, developing banks, commercial banks, and investors. The G4AW team at NSO is happy to share their knowledge and experience about the G4AW approach and/or bring you in touch with G4AW projects all over the world. If you are interested don't hesitate to contact us.

G4AW - Get inspired!